Information
Auburn Area Community Theatre and the Kreher Preserve and Nature Center invite you to:
A Musical Walk in the Woods
July 31 and August 1, 2020
Timed ticket entries every 10 minutes beginning at 6:30.
Join a walking small group tour along a laid out path through the cool evening of the gently lit Forest Preserve. Enjoy 8 song stations with Broadway classic, family-friendly songs performed by community artists. A friendly tour Emcee will lead each group on the easy 5-minute walk between performance stops, sharing details about the songs, shows, and performers. The full tour will run approximately 90 minutes.
 July 31 and Aug 1 (with Aug 2 as a rain date)
 6:30 – 9:00 – Sign up for a specific group by time slot, which starts every 10 minutes from 6:30 – 7:40 (see schedule below).
 Each group max 10 unrelated people
 OR reserve a whole "group" slot for your family/guests (up to 15 people)
 Tickets purchased in advance online – $5 kids (ages 5-18) /$7 adults, $60 for whole group slot. Tickets will go on sale on July 6th.
Safety Procedures
Safety Procedures and Precautions
 Guests encouraged not to arrive more than 15 min before their start time. Please wait in your car until this time and then walk on the gravel drive to find your group's waiting area. Group in this area. If you are in a group with unrelated people, please observe 5 ft distance.
 Performers (1-3 people per station) will be in stage area marked off with small fencing or rope, at least 15 ft. from the audience. Audience members can stand even farther down the path if they choose.
 Masks required for everyone ages 5 and up unless while traveling in a "family-only" tour group. Please contact us if there's a reason a mask isn't feasible for someone in your party because of a medical need or special circumstance. Extra masks will be available if you don't have one or forget.
 Physical distancing is incorporated into the setup of the event so that you won't even notice that you are being safe IF you listen to the directions of your tour guide.
 Public areas of the preserve will be open according to the safe policies outlined by the Kreher Preserve staff.
Volunteers Needed!
Volunteers needed for AACT's Musical Walk in the Woods! 
July 31, Aug 1, 6:00 – 9:00
Ages 18 and up
Walking Tour Guides
AACT is looking for fun Tour Guides to lead groups on the walk. Guides will be supplied with facts about the musicals, songs, and performers and are asked to enthusiastically share them with their group as they move between acts. They will also make sure groups stay on schedule and use safe behavior, such as staying behind safety fences to avoid getting too close to performers. Guides are encouraged to take on a character, dress in costume, and make it a performance of its own – but just being friendly and chatty would be perfect too. Masks required. One night or both! 
Set up tasks
Extra hands needed to hang the trail lighting at a TBD time in the week before. Also for set up, check-in, and performer care each night. 
Please email Cora Connelly 
Text or call 334-703-3128
Performers and Photos
Performers
Carter DeShazo
Jessica Connelly
Chris Alonzo
Dawn Moseley
Charlotte Hendrix
David Carter
Photos of the Trail
|   | Group A | GROUP B | GROUP C | GROUP D | GROUP E | GROUP F | GROUP G | GROUP H |
| --- | --- | --- | --- | --- | --- | --- | --- | --- |
| stop 1 | 6:30 | 6:40 | 6:50 | 7:00 | 7:10 | 7:20 | 7:30 | 7:40 |
| stop 2 | 6:40 | 6:50 | 7:00 | 7:10 | 7:20 | 7:30 | 7:40 | 7:50 |
| stop 3 | 6:50 | 7:00 | 7:10 | 7:20 | 7:30 | 7:40 | 7:50 | 8:00 |
| Stop 4 | 7:00 | 7:10 | 7:20 | 7:30 | 7:40 | 7:50 | 8:00 | 8:10 |
| stop 5 | 7:10 | 7:20 | 7:30 | 7:40 | 7:50 | 8:00 | 8:10 | 8:20 |
| stop 6 | 7:20 | 7:30 | 7:40 | 7:50 | 8:00 | 8:10 | 8:20 | 8:30 |
| stop 7 | 7:30 | 7:40 | 7:50 | 8:00 | 8:10 | 8:20 | 8:30 | 8:40 |
| stop 8 | 7:40 | 7:50 | 8:00 | 8:10 | 8:20 | 8:30 | 8:40 | 8:50 |
Stop #1
David Carter
"Some Enchanted Evening" from South Pacific
David is a history professor at Auburn University, who has performed with AACT and served on the Board. He last was in Secret Garden and Spamalot. David misses singing in the Montgomery Chorale and being in the audience at AACT and ASF. He can't wait for the stage lights to come back on all around the world. "We will need theater and the arts more than ever as we re-discover, redefine, and rebuild ourselves and our country in a post-pandemic world."
Stop #2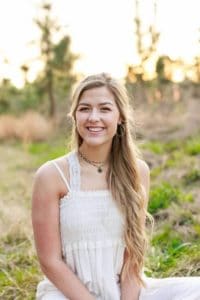 Camryn Chapman and Mickie Felder
"For Good" from Wicked
Camryn is an AACT Youth Theatre alum who is now a student at Auburn University in the BFA Performance and Media Studies major. You may have seen her as Mrs. Darling in Peter Pan or Erzulie in Once on This Island at AHS, or Elle Woods in Legally Blond at NHCT. Camryn is currently working on her audition for the Auburn University fall season, and in her free time, she likes to go to coffee shops and watch Auburn football!! War Eagle!
Mickie is a graduate of Opelika High, where you may have seen her as Mrs. Darling in Peter Pan, or Ursula in The Little Mermaid. She is currently a student at Auburn University working towards a BFA in Musical Theatre. Mickie says that "Outside of theatre I have a passion for all things interior design and DIY!"
Stop #3
Karen Herring
"Memory" from Cats
Karen is a long time Auburn resident, who was seen on the Auburn University Stage in elementary school as Anne Frank. She sings at church and in the East Alabama Civic Chorale. She has volunteered with AACT, working on the website and newsletter for several years and now serves as treasurer. Karen says "I truly enjoy my work with Intuit, so a lot of my spare time is spent on projects related to work. I also enjoy spending time with my four teenagers and relaxing with my beautiful wife."
Stop #4
Chris Alonzo
"All for the Best" from Godspell
Chris moved to Auburn seven years ago to be closer to his son and has directed with AACT several times since then as well as serving on the board. He is still involved with the arts in Atlanta as part of the leadership at the Atlanta Fringe Festival and a stand-up comedian. He wrote and performed a one-man musical called The Middle of the Ocean for the Atlanta Musical Theatre Festival. He'd also like to say "Black Lives Matter" and "Support Local Businesses!"
Stop #5
Carter DeShazo
"Somewhere Over the Rainbow" from The Wizard of Oz
Carter moved to Auburn twenty years ago to attend the university. She has worked with AACT since 2016 as a member of the board and performing in shows like Spamalot, The Red Velvet Cake War, To Kill a Mockingbird, and The Last Round-Up of the Guacamole Queens. She would love to do another musical one day with AACT!
Stop #6
Charlotte Hendrix
"Happy to Keep His Dinner Warm" from How to Succeed in Business without Really Trying
Charlotte works at the Jule Collins Smith Museum and Gogue Center as Communication and Marketing Specialist. She has performed for AACT in Spamalot, Last Round-Up of Guacamole Queens, and Red Velvet Cake War. In the past, she performed with ComedySportz D.C. as an "actlete" and trained with Washington Improv Theatre. During AACT's Remote Theatre workshops, she managed to lead improv online successfully!
Stop #7
Dawn Mosley
"Corner of the Sky" from Pippin
Dawn moved to the Auburn-Opelika area two years ago so that she could be closer to her grandchildren. She performed the role of Jimmy Wyvette in AACT's production of Last Round-Up of the Guacamole Queens. Other prior performance experience includes Sister Hubert in Nunsense, and Lola in Damn Yankees. In her spare time, she enjoys taking care of her granddaughters and singing. Dawn loves an opportunity to sing anywhere anytime and for any reason.
Stop #8
Jessica Connelly and Rachel Pair
Medley from The Sound of Music
Jessica has been performing with AACT since she moved here at 6 years old and then went on to choreograph for children's shows and teach in AACT summer camps. She's also been seen onstage at Auburn High and New Horizons Community Theatre in roles like the Narrator in Joseph and the Amazing Technicolor Dreamcoat, and Wednesday in the Addam's Family. She is currently a BFA student in Musical Theatre at Coastal Carolina University. She's looking forward to creating safe theatre in a pandemic.
Rachel came to Auburn almost 10 years ago to study Musical Theatre at Auburn University. Her favorite role while at AU was Judy in 9 to 5. Rachel most recently musically directed AACT's 2020 production of High School Musical! which closed just a week before the original shut-down. Rachel loves working with her students at Spicer's, hanging out with her family, watching movies, and making coffee!